Courtroom to boardroom
Wayne Law empowers students with the flexibility to pursue any facet of law that piques their interest, whether they aspire to litigate in the courtroom or advise start-ups and other corporate clients. Our business-oriented clinics, externships, competitions, and other programs focus on entrepreneurship and transactional law skills and prepare our students to be effective business counselors. For those who see themselves in the courtroom, litigation-based programs such as Moot Court, Mock Trial and Jessup International Law Moot Court give students an edge before they even graduate.
---
Jaffe Transactional Law Competition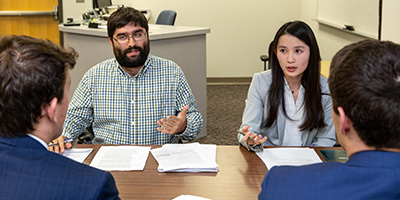 The innovative Jaffe Transactional Law Competition helps students develop drafting, negotiation and counseling skills, with two-member teams representing a buyer and seller involved in a complex acquisition. Teams draft an agreement, which they negotiate as necessary. After weeks of revisions, the teams then come together for two rounds of live negotiations, where their work is judged by practicing attorneys.
---
Business and Community Law Clinic
The Business and Community Law Clinic allows upper-level law students to learn the theory, skills and practice of transactional lawyering while supporting qualifying community organizations and encouraging the growth of social enterprise. Under the supervision of experienced and licensed faculty, student attorneys assume primary responsibility and work directly with organizational clients to address their transactional legal needs.
---
Corporate Counsel Externship
The Corporate Counsel Externship program places students in the corporate counsel offices of for-profit and nonprofit businesses across metro Detroit. Through their placement and the companion class, students learn about the role of in-house counsel while gaining exposure in mergers and acquisitions, business contracts, real estate transactions, securities laws, and compliance with government regulation of business and industry.
---
Moot Court
Wayne Law's Moot Court program features intensive training in legal research, writing and oral advocacy. Students have the opportunity to sharpen skills in rigorous in-house appellate advocacy competitions in both the fall and winter semesters.