Agents of change
Whether a client is launching a startup or in need of expert legal advocacy, Wayne Law graduates learn to apply their knowledge to enhance others' quality of life, no matter the zip code. We are proud to champion advocates that transform the communities they serve. And our centers are renowned for their contributions to the public interest.
---
Damon J. Keith Center for Civil Rights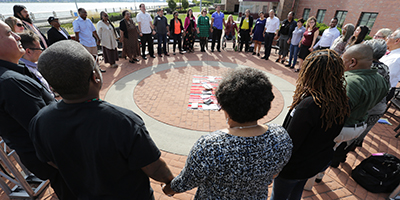 The Damon J. Keith Center for Civil Rights upholds the legacy of Judge Damon J. Keith (LL.M. '56) through teaching, research and action. The center tackles issues from tax foreclosures to water shutoffs and police-community relations. One of the Keith Center's initiatives, the Detroit Equity Action Lab, has mobilized four cohorts, creating a network of more than 100 organizations and individuals addressing issues of structural racism in Detroit and beyond.
 
---
Levin Center at Wayne Law
With a focus on how to conduct bipartisan, in-depth oversight investigations, the Levin Center at Wayne Law trains the next generation to ensure that public and private institutions operate with integrity, transparency and accountability in honor of U.S. Sen. Carl Levin's distinguished career in public service. In collaboration with The Lugar Center and the Project on Government Oversight, the Levin Center has trained more than 250 congressional staff and clerks as well as legislators and staff at the state level.
---
Clinics
Wayne Law is home to six clinics that provide critical services in the community. Initiatives such as the Asylum and Immigration Law Clinic give students the chance to work on a wide variety of immigration cases and gain experience working with federal agencies as they represent those who might not otherwise have the opportunity to afford legal assistance.