Levin Center at Wayne Law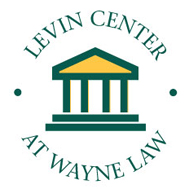 The Levin Center at Wayne Law educates future attorneys, business leaders, legislators and public servants on their role overseeing public and private institutions and using oversight as an instrument of change. Through academic programming, training and scholarship, the center equips future lawyers, legislators and leaders with an understanding of how effective legislative oversight can lead to significant and meaningful changes in public policy.
The center inspires and trains a new generation to embrace their responsibility to ensure public and private institutions operate with integrity, transparency and accountability to the general public in honor of U.S. Sen. Carl Levin's distinguished career in public service.
Make a gift to support the center     
Follow us on Twitter and Facebook
Subscribe to our YouTube channel