Centers and research
Wayne Law's faculty of scholars are internationally respected for their expertise in making, interpreting and refining laws. They are highly sought after for their legal opinions on key policy and judgments that impact people locally and globally.
---
Faculty who do
In fact, Professor Christopher C. Lund's article, The Congressional Chaplaincies, was cited by the U.S. Supreme Court in the case American Legion et al. v. American Humanist Assn. et al. Meanwhile, Assistant Professor Sanjukta Paul, who has written about the double standard of antitrust law, is writing a book tentatively titled Solidarity in the Shadow of Antitrust: Labor and the Legal Idea of Competition (Cambridge University Press).
---
Program for International Legal Studies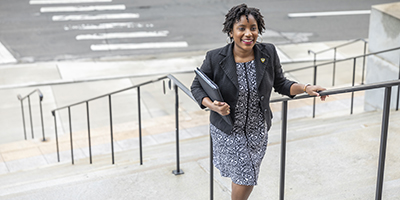 The focal point for international activity at Wayne Law, the Program for International Legal Studies also empowers future jurists by providing opportunities to get firsthand experience with other nations' legal systems and approaches to education. A hub for international legal research, the program showcases faculty scholarship and hosts a speaker series that welcomes scholars, policymakers and practicing lawyers from around the world.
---
Centers supporting the public interest
Additionally, the Damon J. Keith Center for Civil Rights and the Levin Center at Wayne Law showcase our commitment to civil rights advocacy and legal governance. The Keith Center upholds the legacy of Judge Damon J. Keith (LL.M. '56) as a hub for civil rights teaching, research and action as it addresses the needs of Southeast Michigan and the country. Meanwhile, the Levin Center trains a new generation to embrace their responsibility of ensuring that public and private institutions operate with integrity, transparency and accountability in honor of U.S. Sen. Carl Levin's distinguished career in public service.