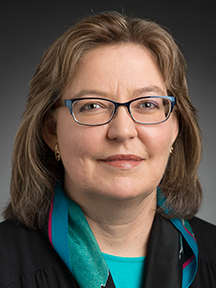 Associate Dean
Suite 3315
(313) 577-3933
Susan E. Cancelosi
Biography
Susan Cancelosi was named associate dean of Wayne State University Law School in summer 2017 after having served as interm associate dean since August 2016.
Previously, Cancelosi, who joined the Wayne Law faculty in 2006, served as an associate professor of law, teaching trusts and decedents' estates, federal income taxation, elder law and employee benefits. Her research focuses on employment-based retiree benefits, both health and pension. She speaks regularly on benefits-related topics involving the elderly.
Before joining the Wayne Law faculty, Cancelosi was a research professor with the Health Law & Policy Institute at the University of Houston Law Center, where she focused primarily on research into various health care finance issues and taught both employee benefits and elder law.
For the preceding five years, she was a director in Tax & Legal Consulting Services for Buck Consultants, a Dallas-based national human resources consulting firm. Before joining Buck, Cancelosi worked as a manager with Deloitte & Touche in its employee benefits consulting practice in Dallas.
She also has worked as an employee benefits attorney with Jones Day Reavis & Pogue in Cleveland and Dallas, with the benefits practice at Taft Stettinius & Hollister in Cincinnati and as assistant general counsel for The Associates, a large publicly traded finance company based in Dallas. Her private practice work covered the full range of employee benefits issues, from traditional retirement plan benefits to all types of welfare benefits and executive compensation.
Her interest in elder law stems from years of volunteer work in Texas with The Senior Source, a United Way agency based in Dallas that focuses on serving the senior population of the North Texas region. In addition to offering pro bono advice at clinics for the elderly and speaking to numerous senior citizens' groups, Cancelosi served for several years as a volunteer guardian for a senior citizen in a nursing home near Dallas.
Cancelosi graduated from Southern Methodist University in Dallas with a bachelor's degree in history and a bachelor of business administration degree in marketing, both cum laude. She graduated cum laude from Cornell Law School in Ithaca, New York, serving as symposium editor for the Cornell International Law Journal. She also holds a master of laws degree in health law from the University of Houston Law Center.
Degrees and Certifications
LL.M., University of Houston Law Center
J.D., Cornell University Law School
B.B.A., B.A., Southern Methodist University
Selected Publications
The Shifting Focus of Federal Intervention in Retiree Health Benefits, 13 NEVADA L. J. 759 (2013)

No Good News: Retiree Benefits One Year after Health Reform, 21 ANNALS HEALTH L. 89 (2012)

The Bell Is Tolling: Retiree Health Benefits Post-Health Reform, 19 ELDER L. J. 49-118 (2011)

VEBAs to the Rescue: Evaluating One Alternative for Public Sector Retiree Health Benefits, 42 J. MARSHALL L. REV. 879-924 (2009)

Revisiting Employer Prescription Drug Plans for Medicare-Eligible Retirees in the Medicare Part D Era, 6 HOUS. J. HEALTH L. & POL'Y 85-150 (fall 2005)