Wayne Law inducts the newest members into the Alumni Wall of Fame
Wayne State University Law School inducted five new members into the Alumni Wall of Fame during a ceremony Tuesday, April 18, 2023, at the Law School.
The Wayne Law Alumni Wall of Fame Award is the highest honor presented by the Law School. It is awarded to alumni, faculty, or staff who embody the highest standard of excellence and have distinguished themselves through their contributions to their field and the profession, their work toward the betterment of humanity, or their significant impact on the Law School and its community. The Wall of Fame, an interactive, multimedia display in the Law School lobby showcasing the inductees, was made possible by a donation from 1986 Wayne Law alumnus, E. Powell Miller.The 2023 honorees are: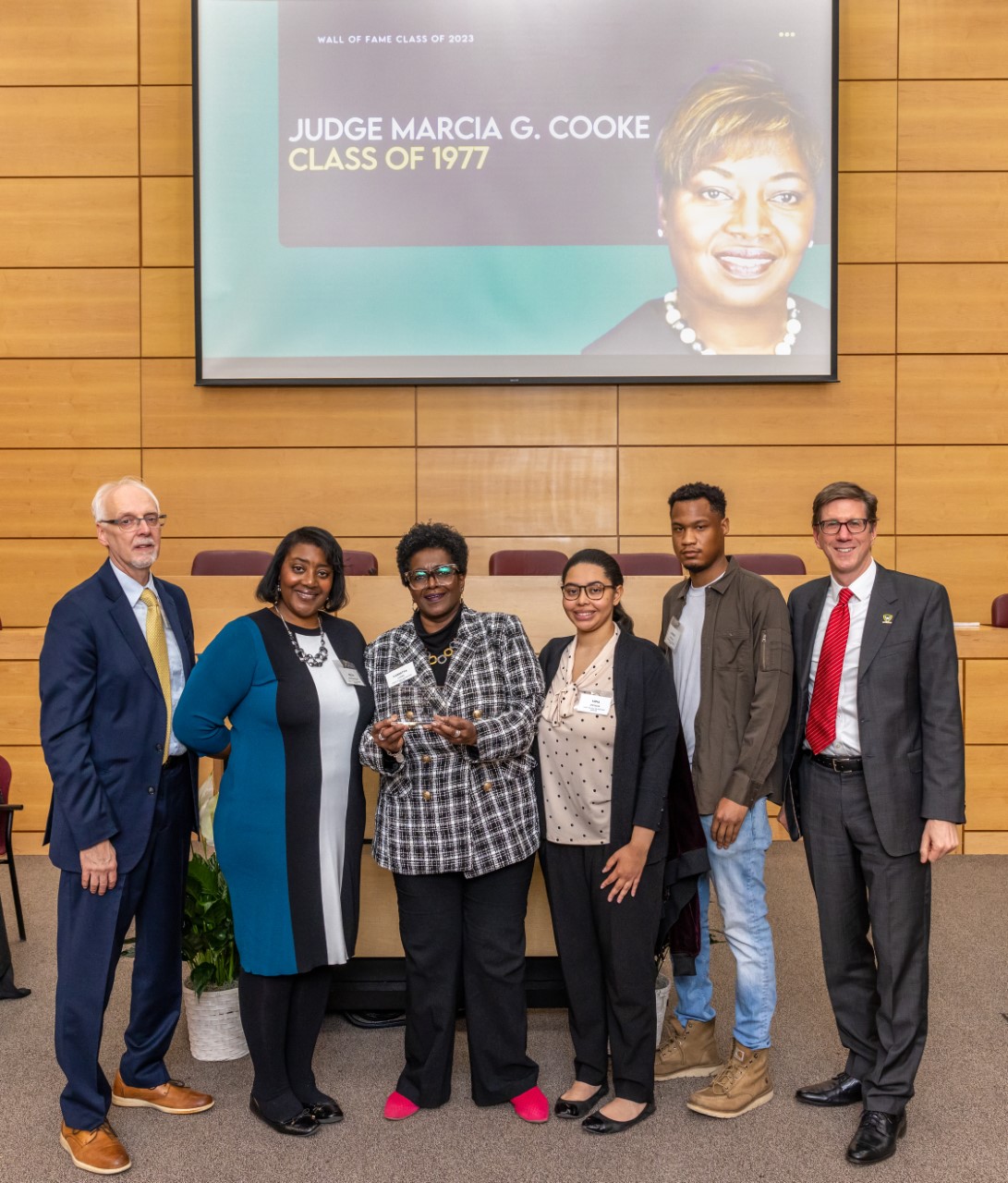 Judge Marcia Cooke, J.D. '77 (posthumously), was an American lawyer who served as a United States district judge of the United States District Court for the Southern District of Florida. Judge Cooke was nominated by President George W. Bush and unanimously confirmed by the Senate with a 96 - 0 vote. Judge Cooke was the first Black woman federal judge in Florida. Cooke's early legal career included roles with Neighborhood Legal Services, the Legal Aid and Defender Association in Michigan, Assistant U.S. Attorney for the Eastern District of Michigan, work in private practice, and magistrate judge of the United States District Court for the Eastern District of Michigan. Judge Cooke's family, including her two sisters – Carretta Cooke and DeLois Cooke Spryszak – were in attendance to accept this honor and remember their late sister.
Nancy Diehl, J.D. '78, served the citizens of Wayne County in the Prosecutor's Office with great distinction for 28 years, retiring in 2009 as Chief of the Trial Division, where she oversaw General Trials, Homicide, Auto Theft, Major Drugs, Child and Family Abuse, and Victim Services. Diehl was a pioneer in the specialization of child abuse and domestic violence prosecutions, founding and directing the Child Abuse Unit, expanding the Child and Family Abuse Bureau, and co-authoring four booklets pertaining to children and the legal system. Diehl served as President of the State Bar of Michigan and co-founded the Wayne County Kids-TALK Children's Advocacy Center.
Vince Foster, J.D. '82, has served as Chairman of the Board of Directors of Houston-based Main Street Capital (NYSE: MAIN) since its inception in 2007 and previously served as its CEO from 2007 until 2018. Main Street, co-founded by Foster, is an investment firm focused on providing debt and equity capital to middle and lower-middle market US companies. Prior to his association with Main Street, Foster had a 19-year career with Arthur Andersen, including 9 years as a partner of Andersen Worldwide. He attended both Wayne State University Law School and the University of Houston Law School, earning his JD degree from Wayne Law.
Audrey Harvey, J.D. '86, LLM '91, holds a Bachelor of Arts degree, a Juris Doctor, and a Master of Laws in taxation—from Wayne State University. Harvey began her career as a CPA, working for the accounting firms Coopers & Lybrand and Arthur Andersen & Co. Harvey joined Blue Cross Blue Shield of Michigan (BCBSM) in 1991 as a tax manager and eventually worked her way up the ranks at BCBSM to controller. Currently, Harvey serves as the Executive Director and CEO of Blue Cross Blue Shield of Michigan Foundation. Harvey said, "It's an incredible honor to be selected as a 2023 Hall of Fame inductee. Wayne Law played a pivotal role in my career journey and it's why I choose to give back and support the students of today."
Mark Zausmer, J.D. '80, has had a role in virtually every major redevelopment project in Southeastern Michigan and Detroit over the past
decades. He has served as counsel for several projects, including the Veterans Administration Hospital project, the Fox Theater District project, and the Thumb Loop Project that brought wind power from mid-Michigan to the Detroit metropolitan area. Zausmer also serves on several community boards, including City Year Detroit, the Detroit Jewish Foundation, Math Corps, and the Wayne County Jail Outreach Ministry. In his acceptance, Zausmer thanked Wayne Law for offering a ladder for him to raise himself up to his potential and, noted his commitment to offering ladders to others.
"These five Wayne Law alumni represent the depth and breadth of where a Wayne Law education can take you. A federal judge in Florida, a prosecutor focused on the well-being of children in the system, a finance entrepreneur in Texas, a corporate tax practitioner rising to foundation CEO, and a litigator, starting his own firm and growing it with attention to diversity and excellence," said Richard A. Bierschbach, Dean of Wayne State University Law School.
To learn more about the Wall of Fame selection process, or to nominate a candidate, visit law.wayne.edu/alumni/wall-of-fame. Nominations received by Oct. 31 each year will be considered for the following award cycle.