Alumna channels inner fire to help nonprofits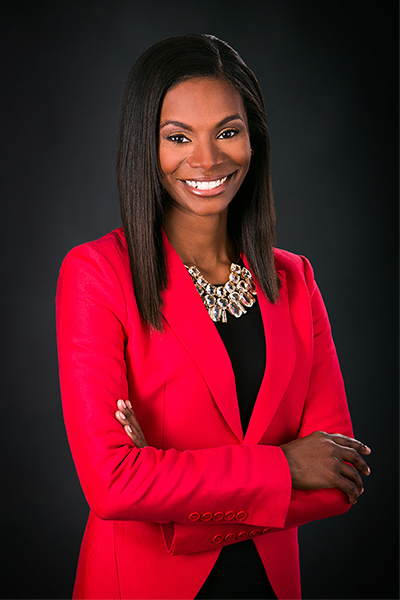 'Rising Star' Tamira Chapman leaves flourishing career in corporate law to help nonprofits through her own business
Tamira Chapman chose to study law because she knew it would give her the skills to be successful in her future undertakings and to combat social inequalities.
"As a child growing up in Detroit, it was not a rare occurrence for me to witness appalling injustice being served to my community," said Chapman, a 2007 graduate of Wayne State University Law School. Her own family was dramatically affected by inequity in the health-care system, she said. For five years, her grandmother, the matriarch and lodestone of the family, was misdiagnosed with asthma when she actually suffered from cancer.
"She was swept aside by healthcare professionals as she fought for her life with limited resources against a cold system that appeared to be designed to work against her and other similarly situated individuals. When she was finally correctly diagnosed, the cancer had metastasized and it was too late. After enduring prolonged and considerable pain, my grandmother passed away from cancer.
"From that moment on, I knew I would join the fight against social and especially healthcare-related injustice, and I wanted to help to improve communities that are the most vulnerable."
After law school, she worked as a commercial litigation associate attorney for Miller Canfield, with a focus in information technology, health information technology and entertainment law. The firm encouraged her outside professional activities, and her passion to help others was always foremost in her mind.
"This allowed my active participation as a board member of the Detroit Metropolitan Bar Association," Chapman said. "During my tenure as a board member, I championed and secured a three-year DMBA scholarship donation from Miller Canfield to support new students pursuing a career in law. This was a remarkable moment for me, the DMBA and the firm because it was the first time in the history of the program that any firm made a multi-year donation commitment, and as a result, the DMBA named the scholarship after the firm.
5 questions
with Tamira Chapman
"This set off a wonderful chain of events that led to other law firms also providing donations for scholarships, and we were able to provide much more financial assistance to many more students in need. I was overjoyed to know that there were students who were on a mission to become a lawyer, just like I was, who now have another resource to help them attain their dreams."
Chapman was honored as 2011 Barrister of the Year for her service with the scholarship project. She praises Miller Canfield for supporting her and advocating for her.
In 2012, Chapman joined Ford as a healthcare attorney, who was later appointed to special counsel to the general counsel. Among other things, she was tasked with helping the automaker comply with the then new Affordable Care Act, including negotiating and retooling the coverage offered under labor agreements with the UAW.
"This was an incredibly moving experience for me," Chapman said. "Not because of the complex or esteemed nature of the work, but because I was able to craft a policy that not only benefited Ford, but improved the lives of employees at every level of the company, including the hourly workers."
As Chapman thrived at Ford, they also made her responsible for the legal aspects of labor and UAW negotiations.
In 2015, Chapman founded Storehouse, a business that helps nonprofits fundraise sustainably by leveraging technology and strengths in e-commerce, international sourcing and logistics, and social data analytics.
Rapidly, the business took off and soon was gaining No. 1 market share.
In 2018, she was named to Crain's Detroit Business 40 Under 40 honors list and to Minority Corporate Counsel Association's Rising Star list. Coincidentally, she came to the decision that she had to leave Ford to balance family and fully channel her inner fire into her new business helping nonprofits.
"It was time," Chapman said. "Work has always been a balance for me of trying to do what I believe I need to do versus what I want to do. Working at an international law firm and a Fortune 10 company has without a doubt been an amazing experience. Professionally, that experience was everything."
"Personally, as time passed I felt what I would describe as a kind of guilt or restlessness. Something inside me was telling me that it was time - time to rebalance the work of my life. With the greater financial independence that came with my flourishing career, I was fortunate to have the freedom to change my professional direction and focus my time on projects that aligned closer with my desire to help others."
Storehouse solutions are turnkey and can include subscription and online store services. In other words, it provides various internet and technology-based platforms where members of an organization, or at times the public at large, can purchase products tailored to their interests and mission of their organization as a fundraising activity for the benefit of their organization.
"With Storehouse, I was able to rapidly turn this company into a global business that achieved 400 percent annual revenue growth," Chapman said. "This would not have been possible, especially in the short timeframe it took, without my legal background."
Beyond Storehouse, she also serves as a business consultant for select companies, helping to solve problems and develop them for growth.
"Quite frankly, my education and professional work experience coupled with my entrepreneurial spirit make me a very effective business person," Chapman said. "When I look at a business, I'm able to view it through a lens that swiftly identifies both legal and business issues. Without a legal background, it would not be possible for me to do business as confidently, efficiently and in a nimble manner.
"Attending law school at Wayne State University was an important time for me. It symbolized a culmination of all my efforts as a student trying to gain the education I believed would arm me with the tools to be successful in my future endeavors for myself and for others."
5 questions with Tamira Chapman
Q: What are some of your outstanding memories of law school?
A: One of my fondest memories of that time occurred on the very first day of classes. As I made my way through the school, by chance, Dean Linda Sims (former assistant dean for recruitment and admissions) and I crossed paths, and we began to talk. I recall how the dean immediately was able to identify some questions I had, and really showed her dedication to her students and support to me, even at this first conversation. In the days that followed, the dean stayed in contact with me to ensure my questions were fully resolved. I remember thinking to myself that Wayne Law was absolutely the right decision for me.
With encouragement and guidance from the dean, I applied for and was awarded a scholarship that gave me the confidence to make the bold decision to leave my job as a buyer with Blue Cross and Blue Shield so I could focus on the studies fulltime. I know that this decision was vital to my academic success in law school, and opened many doors for me that only strong grades can. I am and will always be eternally grateful for Dean Sims and for her believing in me.
Q: What advice can you offer beginning law students?
A: Work hard, be compassionate and pursue what you love. I've witnessed many people be successful in life for different reasons. But what I find is that people, including myself, cannot help but hold the highest regard for the ones that earn success through raw hard work.
In work or life in general, I encourage you to be more compassionate. The more I see of the world around me, the more I realize we are all connected, and we are more the same than we are different. Be considerate in your decisions and in your interactions with others. In today's divisive world, it feels like we need more compassion in our lives than ever before. Lift those around you up. You do not need to pull people down in order for you to advance.
Last, I believe that everyone should pursue what they love. This doesn't mean that you only pursue what you love. As I indicated earlier, I have always had to balance different needs in my life in the pursuit of my passions. Alternatively, if you don't incorporate your passion into your life in some manner, it will lead to discontentment or worse. We've all likely seen it, or at least can imagine what it's like to live a life that you don't want, constantly yearning to do something or be somewhere else. Find a way to pursue your passions within your legal practice, because without the drive of your passion, a long-term legal career is just not sustainable for most of us.
Q: What do you like to do in your spare time?
A: I'm not sure I would categorize any of my time as "spare time." I do, however, make time for fun. I love to travel and see interesting places with husband and son. Recently, I've been to several Caribbean islands, Bali, Dubai, Hong Kong, China and Israel. This year, I plan to visit Spain and explore parts of Africa.
Last, but certainly not least, I adore watching my son play soccer. My mind is always busy with thoughts, but when it comes to watching my son play soccer, I can forget everything else going on around me, and just fully immerse myself in the spirit of competition when I watch my son's passion for the sport.
Q: What are some of your favorite books?
A: Reading is another one of my joys. My favorite books of 2018 include "Shoe Dog" by Phil Knight and "Becoming" by Michelle Obama.