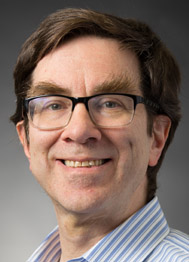 Jonathan T. Weinberg
Professor of Law
Room 3105
(313) 577-3942
---
Education
J.D., Columbia Law School
A.B., Harvard University
Biography
Professor Weinberg has been a law clerk to U.S. Supreme Court Justice Thurgood Marshall and then-Judge Ruth Bader Ginsburg; a visiting scholar at the University of Tokyo's Institute of Journalism and Communication Studies; a legal scholar in residence at the FCC's Office of Plans and Policy; a visiting scholar at Cardozo Law School; and a professor in residence at the U.S. Justice Department. He chaired a working group created by ICANN (the Internet Corporation for Assigned Names and Numbers, an international body that administers the Internet domain name system) to develop recommendations on the creation of new Internet top level domains. He joined the Wayne Law faculty in 1988.
Weinberg has published numerous articles on Internet and high-technology law and policy, as well as on the regulation of broadcasting and other more venerable electronic media. More recently, he has been thinking and writing about immigration law.
Accomplishments
February 27, 2017
Jonathan T. Weinberg was a panelist for a program at the University of Windsor called "Trump: Control or Chaos?"
---
February 23, 2017
Jonathan T. Weinberg was a panelist at a town hall discussion about the rights of immigrants in the United States and the Metro Detroit region. The town hall was hosted by Representative Brenda Lawrence.
---
February 6, 2017
Jonathan T. Weinberg participated in an Interfaith Roundtable organized by Representative Brenda Lawrence to discuss President Trump's executive order imposing refugee and travel bans.
---
April 6, 2016
Jonathan T. Weinberg spoke at the Adult Learning Institute on "The Obama Administration's Actions on Immigration."
---
June 21, 2012
Jonathan T. Weinberg made a presentation, "Harmonizing Civil Liberties and Antitrust Policy," at the annual conference of the American Antitrust Institute, devoted this year to Civil Liberties and Competition Policy. Audio is available at
http://www.antitrustinstitute.org/media/Day2HarmonizingCivilLiberties.mp3
. (Professor Weinberg's contribution begins shortly after the 23:00 mark.)
---
May 23, 2012
Jonathan T. Weinberg participated as an expert speaker during a teleconference briefing on biometrics and immigration sponsored by The Immigration Policy Center and the Electronic Frontier Foundation. The teleconference was part of the launch of "From Fingerprints to DNA: Biometrics Data Collection in U.S. Immigrant Communities and Beyond," a joint white paper from IPC and EFF.
---
February 14, 2012
Jonathan T. Weinberg co-authored a report titled "Hard to BELIEVE: The High Cost of a Biometric Identity Card," which was released by the Chief Justice Earl Warren Institute on Law and Social Policy at UC Berkeley School of Law on Feb. 9. The report evaluates proposals for a mandatory nationwide biometric identity card, intended to prove that a person is authorized to work in the US.
---
February 13, 2012
Jonathan T. Weinberg contributed a chapter titled "Non-state Actors and Global Informal Governance: The Case of ICANN" to the book
International Handbook on Informal Governance
which has just been published by Edward Elgar Publishing.
---
May 10, 2011
Jonathan T. Weinberg presented his paper, "Governments, privatization and 'privatization': the evolution of ICANN," at a workshop on Global Internet Governance: Research and Public Policy Challenges for the Next Decade at the American University School of International Service on May 6, 2011. (Video is available
here
.) He presented the same paper at a symposium on Bits Without Borders at Michigan State University on Sept. 24, 2010, and also made a presentation on "The Laws of Cyberspace" at a symposium on Cyberterrorism: What? Where? Why? sponsored by the WSU Center on National Security Intelligence Studies on April 5, 2011.
---
April 22, 2011
Jonathan T. Weinberg spoke about Michael Froomkin at his installation into the Laurie Silvers and Mitchell Rubenstein Endowed Distinguished Professorship at the University of Miami. Click
here
to view the installation video online. (Professor Weinberg appears at approximately 48:00.)