Wayne Law student awarded Gottfried memorial scholarship
DETROIT — Third-year Wayne State University Law School student Erin Butler was awarded the 27th annual Bernard Gottfried Memorial Labor Law Symposium Scholarship in October.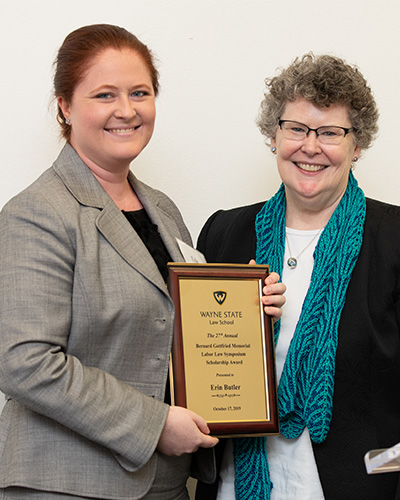 This scholarship is presented to Wayne Law students who demonstrate interest in the field of labor law or employment law.
Butler, who was raised in a union household in Charlotte, serves on Wayne Law's Student Board of Governors and as the symposium director for the Law School's Journal of Law in Society. After completing her first year of law school, Butler worked as a legal intern at Detroit workers' rights firm Miller Cohen. She currently works as a legal intern in the Payroll Fraud Enforcement Unit within the Labor Division of the Michigan Department of Attorney General.
Prior to attending Wayne Law, Butler worked on various political campaigns, including a citizens' initiative that aimed to enshrine collective bargaining rights in Michigan's Constitution. She also worked as an organizer at the Michigan AFL-CIO and the Michigan Education Association. She earned her bachelor's from Michigan State University.
The scholarship and related symposium honors the labor relations vision of Bernard Gottfried (1925-92), who was director of Region 7 of the National Labor Relations Board from 1973 until his death. He taught as an adjunct professor at Wayne Law for many years.
# # #
Contact: Mary Hiller
Phone: 313-577-4834
Email: maryhiller@wayne.edu
Assets