Wayne Law journal, Levin Center to convene gerrymandering symposium March 22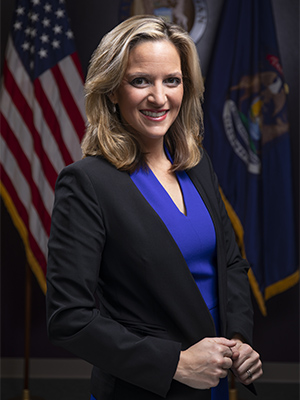 DETROIT - The Journal of Law in Society and the Levin Center at Wayne State University Law School will convene national experts Friday, March 22, for the journal's annual symposium, this year on "Gerrymandering: The Power of Boundaries."
Former U.S. Sen. Carl Levin, chair of the Levin Center at Wayne Law and the Law School's distinguished legislator in residence, and Emad Hamadeh, editor-in-chief of The Journal of Law in Society, will kick off the event at 8:45 a.m.
Michigan Secretary of State Jocelyn Benson will deliver the keynote address at 9 a.m. A graduate of Harvard Law School and an expert on civil rights law and election law, Benson is the author of State Secretaries of State: Guardians of the Democratic Process. She served as dean of Wayne Law from December 2012 to September 2016, appointed first as interim dean and later to a full term as dean. She is vice chair of the advisory board for the Levin Center at Wayne Law.
The event, which is free and open to the public, will be from 8:30 a.m. to 4 p.m. in the Law School's Spencer M. Partrich Auditorium, 471 W. Palmer St., Detroit. Parking is $8 (credit or debit card only) in Parking Structure No. 1 across West Palmer Street from the Law School. A light breakfast will be served at 8:30 a.m. Lunch will be provided. Complete symposium details, including speaker biographies and registration, can be found at go.wayne.edu/boundaries19.
Following Benson's keynote address, the first panel, "Gerrymandering: Past, Present and Future," moderated by Wayne Law Associate Professor Justin Long, will begin at 9:45 a.m.
Speakers:
Jowei Chen, University of Michigan
James Lancaster, Voters Not Politicians
Eric Lupher, Citizens Research Council of Michigan
Moderating the second panel, "Race-Based Redistricting" at 11:15 a.m., will be Rhonda Haidar, symposium editor of The Journal of Law in Society.
Speakers:
Guy-Uriel Charles, Duke University School of Law
Aleks Kajstura, Prison Policy Initiative
G. Michael Parsons, New York University School of Law
The third and final panel, slated for 1:30 p.m., is "Political Gerrymandering and the U.S. Constitution," moderated by Wayne Law Professor Jonathan T. Weinberg.
Speakers:
Edward B. "Ned" Foley, Moritz College of Law at Ohio State
Nicholas Stephanopoulos, University of Chicago Law School
Daniel P. Tokaji, Moritz College of Law at Ohio State
Steven Winter, Wayne Law
A networking reception will follow the formal program.
For more information on this event, contact Emily Barr, levincenter@wayne.edu or 313-577-2731.
PHOTO:
Jocelyn Benson
# # #
Media contact: Kaylee Place
Phone: 313-577-4629
Email: kaylee.place@wayne.edu