Wayne Law hosts DACA information session
DETROIT – Wayne State University Law School hosted an information session Monday, Sept. 18, for the Wayne State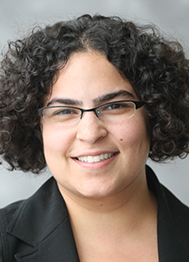 community about the American immigration policy, Deferred Action for Childhood Arrivals (DACA).
Speaking at the event were Sabrina Balgamwalla, assistant professor (clinical) and director of the Asylum and Immigration Law Clinic, and Rebecca Robichaud, assistant professor (clinical) and assistant director of externship programs. Dean Richard A. Bierschbach provided opening remarks.
Discussion topics included:
Current status of the program
Options for persons participating in the program
Resources for Wayne State community members
Where to go with personal questions or for individual legal consultations
Earlier this month, the Department of Homeland Security issued a memorandum announcing plans to phase out DACA,
which was established in 2012 by President Barack Obama. The policy allowed some undocumented immigrants who entered the United States as minors to remain in the country and receive deferred action from deportation.
Photos:
Sabrina Balgamwalla
Rebecca Robichaud