Wayne Law students to gain experience through summer study abroad
Five Wayne State University Law School students will travel abroad this summer to study, gain experience and advocate for human rights. Their work is sponsored by the law school's Program for International Legal Studies.
Three students - Shahad Atiya of Bloomfield Hills, Laura Barrera of Brighton and Blair Daniels of Rochester Hills - earned International Public Interest Law Fellowships and will spend the summer engaged in advocacy on a range of issues.
In addition, Joshua Aprile of Marine City will work as an intern in the Mexico City office of Barrera, Siqueiros y Torres Landa, one of Mexico's leading law firms. And Shahar Ben-Josef of Detroit will attend the prestigious Hague Academy of International Law in The Hague, Netherlands.
Atiya is already in Madurai, India, working for People's Watch, where other fellowship winners have been placed in past years. People's Watch is one of India's most respected human rights organizations and issues reports on all aspects of Indian political and social practices, as well as serving as a liaison to international monitoring bodies at the United Nations and elsewhere.
Atiya, who will be a second-year student in the fall, said she expects to be writing a manual to help various national human rights organizations in India follow standards known as the Paris Principles created by the international community.
"This experience will help me understand my role in the human rights community and where I can be most effective," she said. "I would like to see if I can be an agent of change in this realm and, most importantly, learn about other people and their views on their respective justice systems."
Atiya earned her bachelor's degree in political science at the University of Michigan and envisions herself as a litigator after graduation and as someone serving in politics. She was born in Iraq, speaks fluent Arabic and has traveled throughout the Middle East.
Barrera, a rising second-year student, will leave in mid-June to work in Africa at the Botswana Competition Authority, the primary enforcement agency monitoring and controlling trade and business practices in Botswana to promote fair competition and economic prosperity through free markets.
"I expect to be doing antitrust-related work, monitoring and researching any mergers and acquisitions," Barrera said. "I think this will be a great introduction to antitrust law, so I can find out if it's something I would like to pursue in the future. I would like to work in international policy, maybe through a government organization."
In the past, she has traveled to Spain and Turkey, and she spent 10 months in France as an undergraduate studying French language, literature and philosophy through the University of Michigan. Barrera works for Freedom House in Detroit as a French translator.
Daniels, also a rising second-year student, will begin working in mid-June with Defense for Children Interna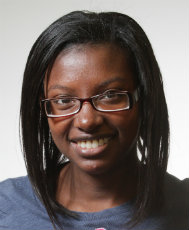 tional in Ghana.
"I will be developing policies for their socio-legal defense centers for cases on abused children," she said. "Furthermore, I will accompany court lawyers who protect children's human rights in Ghana and write reports on activities undertaken by the organization. I think this will be an amazing opportunity to learn about the legal system in Ghana and about the culture there, while making a difference in children's lives. I feel very lucky to have an opportunity to go to Africa to do something that is not only meaningful but that will help me grow and learn. I love to travel, and my life goal is to make it to all seven continents."
After her undergraduate work in German language at the University of Michigan, she lived for a year in Austria, teaching English through the Fulbright Commission. She spent a semester in Germany during her junior year, as well.
Daniels would like to use her German language skills working with an international law firm or with the United Nations after graduation, she said.
Aprile, who worked with Mexico Unido Contra la Delincuencia last summer as a fellowship recipient researching government and business corruption, will return to Mexico in August as a new law school graduate to intern with Barrera, Sequiros y Torres Landa.
"I hope to work on cases involving international issues in many of Mexico's recently liberalized industry sectors," he said. "This opportunity will undoubtedly provide amazing insight into many of the international issues facing companies today."
Aprile, who majored in political science at Grand Valley State University, plans a career working on international commercial transactions and arbitration and chose Wayne Law so he could participate in its Program for International Law Studies, which is under the direction of Professor Gregory Fox.
Ben-Josef, a rising third-year law student, who is also pursuing a master's degree in dispute resolution and a graduate certificate in peace and security studies, will study for three weeks in July at The Hague Academy in the Netherlands through a Freeman Fellowship. The Hague Academy is the academic wing of the International Court of Justice, also known as the World Court.
"I will be attending courses and lectures on public international law," Ben-Josef said. "
I'll also have the opportunity to visit the International Criminal Court, International Court of Justice, the International Criminal Tribunal for the former Yugoslavia, as well as the opportunity to meet with various ambassadors. This will allow me to make important connections within the field of public international law. Hopefully, these connections will help me in the future to secure the kind of job that I'm looking for. Aside from the connections, this is an incredible opportunity to deepen my knowledge of international law."
Fox said studying at The Hague Academy is a relatively rare and valuable experience for an American law student.
"The classes are taught by the world's leading international lawyers, and the students are mostly law Ph.D. candidates from Europe," he said. "Not many Americans attend The Hague Academy. So, it is quite special that Wayne can send someone each year through the Freeman Fellowship."
Ben-Josef, who earned her bachelor's degree from the University of Michigan in Middle Eastern and North African studies, was born in Israel and travels there frequently to visit family. She also has traveled all over Europe and North America.
Photos:
Shahad Atiya
Laura Barrera
Blair Daniels
Joshua Aprile
Shahar Ben-Josef