Hispanic Heritage Month Q&A with LaLSA
In honor of Hispanic Heritage Month, Wayne State University Law School spoke with Shirley Rivas and Sierra Yslas, co-presidents of the Law School's Latinx Law Students Association. We encourage you to learn more about the month-long celebration and what drives the students as leaders of their affinity group.
What is Hispanic Heritage Month?
Hispanic Heritage Month exists to celebrate the histories, culture and contributions of Hispanic and Latinx people. It is celebrated between Sept. 15 and Oct. 15 because many Latin American countries celebrate their independence days between Sept. 15 through Sept. 21.
Sept. 15: Costa Rica, El Salvador, Guatemala, Honduras and Nicaragua
Sept. 16: Mexico
Sept. 18: Chile
Sept. 21: Belize
Why is Hispanic Heritage Month so important?
Shirley: Hispanic Heritage Month celebrates the contributions that Hispanic and Latinx people have made to the U.S. Hispanic and Latinx people are distinctly persecuted in this country and our immigration status is always questioned. Despite this, Hispanic and Latinx people continue to work hard and tirelessly, with or without due recognition. A month's time is the least we could do to recognize the accomplishments of Hispanic and Latinx people and their everlasting presence in U.S. history.
Sierra: I think it is so important to highlight the amazing, vibrant and diverse Hispanic and Latinx cultures. We are the largest minority group in the U.S., making up 18% of the population. We have contributed so much to U.S. culture, and continue to add to it.
What are the mission and goals of the Latinx Law Students Association at Wayne Law?
LaLSA aims to build a supportive community for Latinx students and anyone else who wants to be a part of the organization. LaLSA's goals are to advocate for Latinx and other underrepresented students at Wayne Law, collaborate with other Law School student organizations and with the larger Wayne State University community, and to do outreach to help increase the number of Latinx law students.
Are there any LaLSA events planned for this academic year that we can look forward to?
We are collaborating with the Asian Pacific American Law Students Association, Black Law Students Association and Women's Law Caucus for an event titled "Paving Your Own Path." It will be a diverse panel of first-generation attorneys. LaLSA has some ideas for future events, so keep an eye out for details in Wayne Law announcements!
Meet Shirley Rivas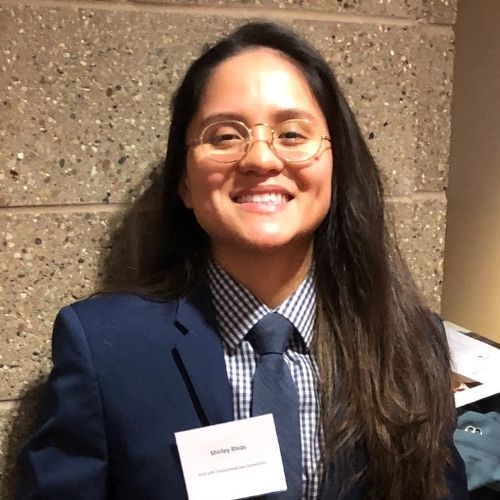 Shirley is a third-year student and co-president of LaLSA. She's also president of Wayne OutLaws and co-president of the American Constitution Society. While law school classes are virtual due to the coronavirus pandemic, Shirley is living in New York City but Ypsilanti is her home base. Shirley's dream is to be a transactional lawyer that works closely with nonprofits in order to ensure their success. Shirley admires several Hispanic/Latinx icons, including Celia Cruz; a Cuban-American singer; Selena Quintanilla-Pérez, known as the "Queen of Tejano Music;" Marc Anthony, who is a giant in the entertainment industry; and U.S. Rep. Alexandria Ocasio-Cortez (D-NY 14th District).
Meet Sierra Yslas
Sierra is a second-year student and co-president of LaLSA. She's also the treasurer of the International Law Student Association and a member of Delta Theta Phi. Sierra is originally from Tucson, Arizona but currently calls Dearborn Heights home. She is interested in immigration law and practicing federal law, though is keeping an open mind to other areas during her studies. Some Hispanic/Latinx icons she admires include Supreme Court Justice Sonia Sotomayor; Maria Hinojosa, journalist and host of NPR's Latino USA; and Selena Quintanilla-Pérez.