Students and oversight
A key objective of the Levin Center at Wayne Law is to inspire students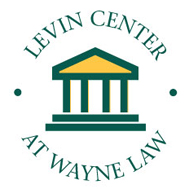 to experience bipartisan, fact-based oversight inquiries, not only to sharpen their investigative skills and oversight leadership, but also to encourage elected legislators to engage in the same type of high-quality oversight. To support that objective, the Levin Center offers a variety of educational opportunities for students and instructors interested in oversight. 
Internships for Wayne Law students
The Levin Center annually provides stipends for Wayne Law students to spend the summer working as legal interns on Capitol Hill, experiencing first-hand a bipartisan approach to congressional oversight.
Externships for Wayne Law students
The Levin Center launched a new externship program in 2021 in collaboration with the Damon J. Keith Center for Civil Rights and the Wayne Law School Externship Office entitled "Lawyering in the Nation's Capital". The program allows Wayne law students to spend an externship semester in Washington, D.C., working on congressional oversight committees or civil rights NGOs while earning credits toward their law degrees. 
More oversight opportunities for Wayne Law students
The Levin Center provides additional oversight opportunities for Wayne Law students including the Levin Center Student Group and Career panels. Our most recent career panel in October 2020 focused on the role of Inspectors General (IGs) and we were joined by two former IGs sharing their career path with Wayne law students. You can watch the career panel recording here. 
Learn more about oversight opportunities at Wayne Law
YMCA's Youth and Government Program
The Levin Center, working with YMCA affiliates across the country, provides high school students an opportunity to experience what it's like to conduct fact-based, bipartisan oversight hearings.
Learn more about Youth and Government
Teaching Bipartisan, Fact-Based Oversight
To assist schools and universities working to expand their online offerings, the Levin Center has compiled instructional materials related to a new topic:  legislative oversight and government accountability.  Good government requires good oversight, and it's never too soon to have students thinking about what good oversight means and its role in society.
Learn more about teaching bipartisan, fact-based oversight