About the Levin Center at Wayne Law
The Levin Center at Wayne Law was established to carry on the legislative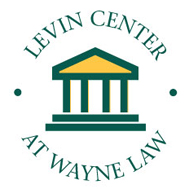 oversight legacy and vision of U.S. Senator Carl Levin, who represented Michigan in the U.S. Senate for 36 years, longer than any other Michigan senator.  A lifelong Detroiter and former President of the Detroit City Council, Carl Levin went to Washington to ensure a compassionate and effective federal government.  After witnessing mismanagement and its detrimental effects on Detroit by the Department of Housing and Urban Development in the 1970's, Levin developed a keen interest in making government accountable and responsible to its people through in-depth, fact-based, bipartisan legislative oversight and strong ethics laws.  
Throughout his years in the Senate, Levin served as chair or ranking Democrat first on the Subcommittee on Oversight of Government Management and then on the Senate's premier investigative committee, the Permanent Subcommittee on Investigations.  He led dozens of major investigations on issues ranging from sweepstakes solicitations to the financial frauds of Enron to money laundering and tax abuse schemes enabled by major banks and auditing firms.  He led the most comprehensive investigation in Congress on the causes of the 2008 financial crisis.
He also served for 36 years as a member, and for 10 of those years as chairman, of the Senate Armed Services Committee, focusing on supporting our troops, strengthening our conventional forces, and improving defense contracting.  Listed by Time magazine as one of the country's ten best senators, he was respected and praised by his colleagues as an "honest—totally honest—decent honorable man," "a model of firm purpose, firm principle, and personal decency," "calm, measured, patient, thoughtful," "a foot soldier for justice," someone who "keeps his word," and a senator who "pursued the powerful on behalf of the powerless."
Upon his retirement in January 2015, Wayne State University and the Wayne Law School along with supporters, friends, and former staff established the Center.  The Levin Center's principal focus is to promote fact-based, bipartisan oversight by Congress and the 50 state legislatures, and to encourage civil dialogue on major issues of public policy.  In doing so, the Center offers academic coursework, training programs, symposia, and research designed to encourage future and current leaders to embrace their role in promoting honest and open government, maintaining the public trust, and holding public and private institutions accountable to high ethical and transparency standards.
Mission
The Levin Center Advisory Board has adopted the following mission statement to guide the work of the Levin Center:
To strengthen the integrity, transparency, and accountability of public and private institutions through the promotion and support of bipartisan, fact-based legislative oversight; to advance good governance, particularly with respect to the legislative process; and to promote civil discourse on current issues of public policy.
Strategic Plan: Jan. 2018 - Dec. 2022
Job Openings 
Join our mission to advance legislative oversight and fact-based public discourse! We are currently looking for an Associate Director to lead our Washington D.C. Office - for more details, go to the Wayne State job portal and search the job ID 045677.