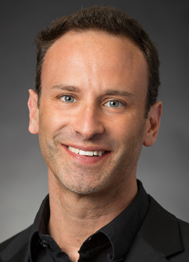 Noah D. Hall
Associate Dean for Student Affairs
Suite 1255
(313) 577-3993
---
Education
J.D., University of Michigan Law School
B.S., University of Michigan
Biography
Noah Hall was named associate dean for student affairs June 30, 2014.
His expertise is in environmental and water law, and his research focuses on issues of environmental governance, federalism, and transboundary pollution and resource management.
Before joining the Wayne Law faculty in 2005, Hall taught at the University of Michigan Law School and was an attorney with the National Wildlife Federation, where he managed the Great Lakes Water Resources Program for the nation's largest conservation organization. Hall also worked in private practice for several years, representing a variety of business and public-interest clients in litigated and regulatory matters. He has extensive litigation experience and numerous published decisions in state and federal courts. He continues to represent a variety of clients in significant environmental policy disputes.
Hall is founder of the Great Lakes Environmental Law Center, a non-profit environmental organization that provides legal assistance to community organizations; environmental non-governmental organizations; and local, state and regional governments.
He graduated from the University of Michigan Law School and University of Michigan School of Natural Resources and Environment, concentrating in environmental policy. After law school, he clerked for the Hon. Kathleen A. Blatz, chief justice of the Minnesota Supreme Court.
Courses Taught
Environmental Law
Administrative Law
Water Law
International Environmental Law
Books
Modern Water Law: Private Property, Public Rights, and Environmental Protections (Foundation Press) 2013 with Robert W. Adler and Robin K. Craig
Modern Water Law: Private Property, Public Rights, and Environmental Protection provides a comprehensive text to study the range of legal issues and doctrines that affect water resources in the United States. The field of water law has evolved considerably in recent decades, expanding well beyond historic common-law doctrines of riparian reasonable use and prior appropriation. Modern Water Law thus offers a new conceptual approach to the field of water law as an integration of (1) private property (the common-law doctrines for riparian reasonable use and prior appropriation, as well as groundwater rights and the statutory schemes for administering water use rights), (2) public rights (navigation, the public trust doctrine, federal reserved rights, and interstate water management), and (3) environmental protections (the energy-water nexus, water pollution, and endangered species conflicts). The modern practice of water law requires attorneys to understand the interactions between different legal doctrines and regimes and how potential conflicts among them can be resolved in practice. Modern Water Law will prepare students and practitioners for the challenges of 21st century water law.
Environmental Law and Policy: Nature, Law, and Society (Aspen Publishers, Inc.)
Environmental Law and Policy: Nature, Law, and Society, Fourth Edition is a user-friendly book noted for its comprehensive legal process approach to the depth and complexity of modern environmental law, gives students a solid doctrinal footing in the law and helps build their analytical skills
Selected Publications
"Interstate Groundwater Law in the Snake Valley: Equitable Apportionment and a New Model for Transboundary Aquifer Management," 6 Utah Law Review 1553 (2013)
"Oil and Freshwater Don't Mix: Transnational Regulation of Drilling in the Great Lakes," 38 Boston College Environmental Affairs Law Review 303 (2011)
"Interstate Water Compacts and Climate Change Adaptation," 5 Environmental and Energy Law and Policy Journal 237 (2010).
"Framing Water Policy in a Carbon Affected and Carbon Constrained Environment" (with Robert H. Abrams), 50 Natural Resources Journal 3 (2010).
"Protecting Freshwater Resources in the Era of Global Water Markets: Lessons Learned from Bottled Water," 13 University of Denver Water Law Review 1 (2009) 
"Interstate Environmental Impact Assessment," 39 Environmental Law Reporter 10667 (2009)
"Political Externalities, Federalism, and a Proposal for an Interstate Environmental Impact Assessment Policy," 32 Harvard Environmental Law Review 49 (2008)
"Climate Change and Great Lakes Waters Resources: Avoiding Future Conflicts with Conservation" (with Bret B. Stuntz), 31 Hamline Law Review 641 (2008)
"Climate Change and Freshwater Resources" (with Bret B. Stuntz and Robert H. Abrams), 22 Natural Resources and Environment 30 (Winter 2008)
"Transboundary Pollution: Harmonizing International and Domestic Law," 40 U. Mich. J.L. Reform 681 (2007)
"The Evolving Role of Citizens in United States-Canadian International Environmental Law Compliance," 24 Pace Envtl. L. Rev. 131 (2007)
"Toward A New Horizontal Federalism: Interstate Water Management in the Great Lakes Region," 77 Colorado Law Review 405 (2006)
"Bilateral Breakdown: U.S.-Canada Pollution Disputes," 21 Natural Resources and Environment 18 (Summer 2006)
Accomplishments
September 27, 2013
Noah D. Hall is the co-author, with Professor Jamie Linton of Queen's University in Ontario, Canada, of a chapter titled "The Great Lakes: A Model of Transboundary Cooperation" in a new book,
Water Without Borders? Canada, the United States and Shared Waters,
published by the University of Toronto Press. Visit Hall's
blog
to learn more about the book.
---
May 28, 2013
Noah D. Hall appeared on the PBS TV series,
"Constitution USA,"
as an expert on the legal issues involving the invasion of Asian carp in Great Lakes waters.
---
---
November 30, 2012
Noah D. Hall recently joined the Wallace Stegner Center of the S.J. Quinney College of Law at the University of Utah as its eighth annual Stegner Center Young Scholar. He delivered two talks, a lecture on "Interstate Groundwater Law: Equitable Apportionment of Transboundary Resources and Implications for the Snake Valley Aquifer Dispute" and a lecture on "The Law of the Great Lakes - Ninety Percent of North America's Available Freshwater and Not a Drop for Utah." He also met with faculty and students. His first lecture will be published in the environmental and natural resources law issue of the student-issued Utah Law Review. Hall also is collaborating with S.J. Quinney law Professors Bob Adler and Robin Craig on a new water law textbook,
Modern Water Law: Private Property, Public Rights and Environmental
Protection(Foundation Press, 2013).
---
September 26, 2012
Noah D. Hall style="text-align: justify;">wrote a chapter, with Benjamin Houston, in a new book,
The Law of Adaptation to Climate Change: United States and International Aspects
, published by the American Bar Association. The chapter is about managing demand for water. The book examines "how laws are being modified, finessed or imagined to deal with the impacts of climate change," according to the publisher's description.
---
---
February 17, 2011
Noah D. Hall recently published "Framing Water Policy in a Carbon Affected and Carbon Constrained Environment" (with former Wayne Law professor Robert H. Abrams),
50 Natural Resources Journal 3
(2010). The article was published as the lead article in the special 50th anniversary edition of the
Natural Resources Journal
. Hall also was invited to speak at the American Association of Law Schools Annual Meeting (San Francisco, Jan. 5, 2011) on "Changing Conceptions of Water in the Law," and traveled to Japan to give a series of public lectures on water law and policy through the Woodrow Wilson International Center for Scholars and the Institute of Developing Economies and Japan External Trade Organization.