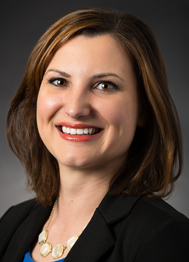 Kristy Pagan
Associate Director of Development
Room 3372
(313) 577-8034
---
Education
M.A., George Washington University

B.S., Western Michigan University
Biography
Kristy Pagan has a passion for fundraising and helping fund programs that will make an impact and improve peoples lives. Before joining Wayne Law, Pagan ran a small business focused on helping nonprofits, foundations, community organizations and campaigns raise money. In 2012, she led the state in fundraising totals for many state representatives and countywide candidates.

Pagan is active in her hometown, serving on the Canton Community Foundation Board of Directors and the advisory team for Youth Leadership Canton. She also volunteers for the STEM Academy in Canton High School and with Alternatives for Girls in downtown Detroit and is a member of the Plymouth-Canton Jaycees.
 
After earning a bachelor of science degree in secondary education from Western Michigan University, Pagan earned a master of arts degree in political management from George Washington University in Washington, D.C.