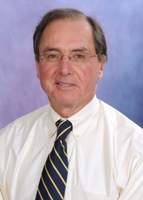 John F. Dolan
Distinguished Professor of Law Emeritus
Room 3217
(313) 577-4856
---
Education
LL.B., University of Illinois College of Law
Biography
After a federal clerkship and 10 years of private practice, Professor Dolan joined the Wayne State law faculty. His field of scholarship is the Uniform Commercial Code and especially Article 5, Letters of Credit. His treatise and articles on that subject have been widely cited by all of the U.S. Circuit Courts of Appeals (except the Federal Circuit), the highest and intermediate courts of many states, U.S. District Courts and bankruptcy courts. His work is frequently cited in academic literature including text books, law review articles and treatises. Professor Dolan has testified in federal and state litigation and has appeared in arbitration proceedings as a letter of credit expert. He currently serves on the Board of Editors of the Banking Law Journal and as a foreign contributing editor for the Banking & Finance Law Review, a Canadian journal.
Professor Dolan has taught as a visiting professor at universities in The Netherlands and China and at four U.S. law schools and was a one-semester visiting scholar at a university in Ireland.
He is currently on research leave.
Courses Taught
Commercial Systems
Property Law
Secured Transactions
Various Seminars
Books
Users' Handbook for Documentary Credits Under UCP 600.
Commercial letters of credit remain a rather arcane subject. International bankers and many experienced commercial lawyers understand them and understand the Uniform Customs and Practice for Documentary Credits (UCP 600) that usually govern them; but many buyers, sellers, and lawyers, those new to international sales as well as many with experience in international sales, are sufficiently unfamiliar with the subject that they will benefit from a users' handbook. The perceived need is for an introduction to international sales, international payments, and the commercial letter of credit. The Paris-based International Chamber of Commerce commissioned this users' handbook to fill the need.
The Law of Letters of Credit: Commercial and Standby Credits (A.S. Pratt & Sons,) 2007 4th edition
The standby letter of credit is a commercial bank product critical to the financing of domestic commerce. The commercial letter of credit plays a critical role in trans-Pacific and North-South trade. The 4th edition of the often cited treatise, The Law of Letters of Credit, explains letters of credit and addresses comprehensively and with massive citation of authority all of the issues that have arisen in the marketplace, the banking house, and the courtroom.
Core Concepts of Commercial Law: Past, Present and Future, Cases and Materials (Thomson-West) April 2004 co-authored with Professors Bruce A. Markell and Lawrence Ponoroff
This book introduces students to commercial law and provides a modicum of Uniform Commercial Code learning. Much of the text emphasizes principles rather than the rules of commercial law. This emphasis is appropriate because the principles endure, whereas the rules change from state to state and time to time. The book, nevertheless, is full of rules, with lots of practical applications.
Secured Transactions and Payment Systems: Problems and Answers (Aspen Publishers, 2d Edition) February 2003 co-authored with Professors Leo L. Clarke, Larry Garvin, Allen R. Kamp, Kerry Macintosh
This student text provides a completely up-to-date treatment of the Uniform Commercial Code, including the recent revisions in Article 9. The material is presented in a problem and answer format. The first edition of this book was based on problems that Professor Dolan had been using with his students for a number of years. Last year, the publisher asked him to update the work, and Professor Dolan invited four commercial law teachers across the country to join him in the effort.
Accomplishments
July 28, 2015
John F. Dolan has had three installments of "Insolvency in Letter of Credit Transactions" published in the April, May and June editions of the
Banking Law Journal
.
---
February 11, 2015
John F. Dolan had an excerpt from his article, "Strict Compliance with Letters of Credit: Striking a Fair Balance," published in the recent 125th anniversary issue of the
Banking Law Journal
. The article was first published in the journal's January 1985 issues.
---
March 28, 2014
John F. Dolan has had three articles republished in
The 2014 Annual Review of International Banking Law & Practice.
They are "
Negotiable Obligations for Discount: Acceptances, DPUs and BPOs
," originally published in 29 Banking & Fin. L. Rev. (Osgoode Hall) 103 (2013); "
Whatever Happened to the Poor Old Doctrine of Negotiability?
," originally published in 130 Banking L.J. 136 (2013); and "
Letter of Credit Litigation under UCC Article 5: A Case of Statutory Preemption
," originally published in 57 Wayne L. Rev.1269 (2011). Dolan continues to serve as a member of the Board of Editors of the Banking Law Journal and as Foreign Contributing Editor of the Banking & Finance Law Review, a Canadian journal. He is currently editing a book on the legislative history of Article 5 of the Uniform Commercial Code.
In The News
February 27, 2015
John F. Dolan was quoted in Detroit News report "Banks redefine role of teller in move toward technology."
Read Article
---