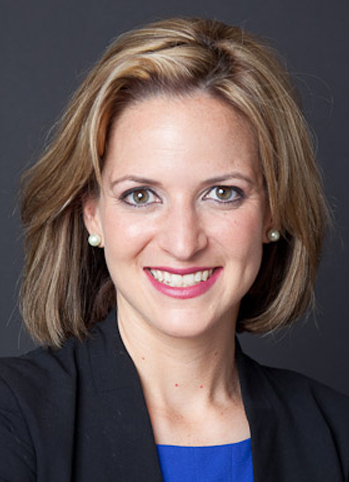 Jocelyn F. Benson
Dean
Room 3315
(313) 577-3933
---
Education
J.D., Harvard Law School
M.Phil., Oxford University
B.A., Wellesley College
Biography
Jocelyn Benson was named dean of the Wayne State University Law School, effective June 16, 2014, after having served as interim dean since December 2012.
Dean Benson has been a key member of the law faculty since 2005. Prior to serving as dean, she was an associate professor of law and associate director of the law school's Damon J. Keith Center for Civil Rights. In that capacity she created the Michigan Allies Project, an effort designed to track hate incidents throughout Michigan and provide legal support for victims.
Her areas of expertise include civil rights law, education law and election law. She is widely quoted on those subjects in local, regional, national and international media and has written numerous book chapters and law review articles. In 2010, her book, State Secretaries of State: Guardians of the Democratic Process, was published. It is the first major book on the role of the secretary of state in enforcing election and campaign finance laws. That same year, she was the Democratic candidate for Michigan's secretary of state.
Dean Benson is founder and executive director of the nonpartisan Michigan Center for Election Law, which hosts projects that support transparency and integrity in elections. In 2011, the center hosted Michigan's first "Citizens' Redistricting Competition," providing an opportunity for Michigan residents to access software and draw their own redistricting maps for the state. Also in 2011, she was selected to serve with retired U.S. Supreme Court Justice Sandra Day O'Connor on the board of iCivics, a national nonprofit organization that Justice O'Connor created to improve civics education throughout the country.
Dean Benson serves on the Southern Poverty Law Center Board of Directors.
A former member of the American Bar Association's Committee on Election Law, Dean Benson has developed and supervised three statewide nonpartisan election protection efforts in Michigan. In 2007, she successfully blocked the unlawful closure of a secretary of state branch office in Buena Vista Township. During the 2008 election, she led an effort to block the use of foreclosure lists to challenge voters' eligibility on Election Day.
Dean Benson also is founder and president of Military Spouses of Michigan.
Prior to joining the law faculty, Dean Benson clerked for Judge Damon J. Keith on the U.S. Court of Appeals for the Sixth Circuit. She also worked as a legal assistant to Nina Totenberg at National Public Radio and investigated hate groups and hate crimes for the Southern Poverty Law Center.
After earning a bachelor of arts degree from Wellesley College, she earned a master of philosophy degree as a Marshall Scholar at Oxford University and her law degree from Harvard Law School.
Books
State Secretaries of State: Guardians of the Democratic Process (Ashgate) 2010
Nearly a decade after the 2000 presidential elections invited a firestorm of questions about the sanctity of our democratic process, there continues to be a heightened interest in the role of state-wide elections officials, typically the state's Secretary of State. This book looks into their pivotal role in the promotion of a healthy democracy.
Much past interest has resulted in overly critical coverage of election errors, ignoring the tireless efforts that ensure the American citizens benefit from a democratic, inclusive and accountable election process. Through a series of case studies, anecdotes, and interviews with current and recent secretaries, State Secretaries of State author Jocelyn Benson readdresses this balance by providing the first in-depth study of the Secretary's role in registering voters, enforcing voting laws and regulations, overseeing elections, and certifying results. As such, it represents a much-needed contribution to the study of U.S. elections, both in practice and in law.
Selected Publications
Law Review Articles
The Election Assistance Commission: We Love You, You're Perfect, Now Change (work in progress)
How Serpentine Districts Became Law: Michigan Redistricting in 2011, Wayne Journal Law In Society (2011)
A Shared Existence: The Current Compatibility of the Equal Protection Clause and Section 5 of the Voting Rights Act, 88 Nebraska Law Journal 124 (2009)
Voter Fraud or Voter Defrauded? Highlighting Courts: Inconsistent Approach to Election Fraud, 44 Harvard Civil Rights-Civil Liberties Law Review 1 One Person, One Vote: Protecting the Franchise Through the Effective Administration of Election; Procedures 40 The Urban Lawyer 305 (2008) (lead article)
One Person, One Vote: Protecting the Franchise Through the Effective Administration of Election Procedures, 40 The Urban Lawyer 305 (2008) (invited submission)
Towards Full Participation: Solutions for Improvements to the Federal Language Assistance Laws, Advance, The Official Law Journal of the American Constitution Society (May 2008)
Democracy and the Secretary: The Crucial Role of State Election Administrators in Promoting Accuracy and Access to Democracy, Saint Louis University Public Law Review (2008) (invited submission)
 Election Fraud and the Initiative Process: A Study of the 2006 Michigan Civil Rights Initiative, 34 Fordham Urban Law Journal 887(2007) (invited submission).
 Su Voto Es Su Voz! Incorporating Limited English Proficient Voters into American Democracy, 48 Boston College Law Review (2007)
 Preparing for 2007: Legal and Legislative Issues Surrounding the Reauthorization of Section 5 of the Voting Rights Act, 67 University of Pittsburgh Law Review 125 (2005).
 Note: Turning Lemons into Lemonade: Making Georgia v. Ashcroft the Mobile v. Bolden of 2007, 39 Harvard Civil Rights-Civil Liberties Law Review 485 (2004)
 Book Chapters
 Expanding the Language Protections of the Voting Rights Act to Additional Communities in James Tucker, "The Battle Over Bilingual Ballots," Ashgate Publications (2009).
Section 203: Language Minority Assistance Provisions of the Voting Rights Act Amendments of 2006 in "America Votes!" American Bar Association (2008)
Developing Uniform Standards for Partisan Involvement in Election Administration in "America Votes!" Ben Griffith, Ed. (2008)
 Representative Equality: Constituencies & Districting International Election Principles, "The Rule Of Law In Democratic Elections," American Bar Association, Jack Young, Ed. (2008)
Voting Rights in "Encyclopedia of the United States Constitution," (David Schultz, ed.)NY: Facts on File, Inc, 2008
 Language Protections for All? Extending and Expanding the Language Protections of the Voting Rights Act in "Democracy, Participation and Power: Perspectives on Reauthorization of the Voting Rightrs Act," Berkeley Public Policy Press (2006).
Accomplishments
August 5, 2015
Jocelyn F. Benson was named as a 2015 inductee into the Michigan Women's Hall of Fame.
---
March 25, 2015
Jocelyn F. Benson was part of a "TED" talk held during the Women Lawyers Association of Michigan Foundation's Reception for Education and Community Leadership held in Southfield. TED (Technology, Entertainment and Design) is a nonprofit devoted to spreading ideas, usually in the form of short, powerful talks.
---
March 11, 2015
Jocelyn F. Benson will serve as one of six democracy experts to judge academic papers from around the country in a writing competition aimed at ending gerrymandering as part of the Common Cause Democracy Prize contest sponsored by Common Cause, a nonpartisan organization dedicated to open and transparent government. Common Cause launched the inaugural Common Cause Democracy Prize last year to find the best "gerrymander standard," a new definition for partisan gerrymandering that can be used to challenge the most unfair congressional and state legislative districts in the United States.
---
February 17, 2015
Jocelyn F. Benson is one of 13 election law professors who signed a brief urging the U.S. Supreme Court to accept a case and overturn a state supreme court ruling in
Dickson v. Rucho
. The professors argue that the lower court's decision misapplies U.S. Supreme Court precedent on redistricting in order to uphold North Carolina's redistricting, and that not overturning the ruling will undermine the Voting Rights Act.
---
November 9, 2014
Jocelyn F. Benson gave a presentation at the annual Veterans Day and Remembrance Service of the Episcopal Cathedral Church of St. Paul in Detroit.
---
October 17, 2014
Jocelyn F. Benson spoke on the state of Michigan's campaign finance law in the aftermath of the U.S. Supreme Court decision in
McCutheon v. Federal Election Commission.
Her talk was
at the University of Michigan Law School in Ann Arbor, where she was a guest of the Michigan Election Law Project.
---
October 3, 2014
Jocelyn F. Benson was selected as one of 27 Esteemed Women of Michigan 2014. The Esteemed Women of Michigan program recognizes women who have excelled in their professions, risen above intolerable circumstances, developed the means to help others or have become inspirational figures for the younger generation, according to the program.
---
June 11, 2014
Jocelyn F. Benson was honored with the Frederick Douglass Equality Award from the Dr. Martin Luther King Jr. Task Force Inc. The award honors leadership and significant contributions to promote justice and equality. The task force, established in 1985, sponsors the annual MLK Peace Walk Celebration in Southfield each year, offers scholarships and promotes the importance of celebrating diversity.
---
June 6, 2014
Jocelyn F. Benson spoke at the Grand Rapids Bar Association's Law Day Celebration on April 30, 2014, about "American Democracy and the Rule of Law: Why Every Vote Matters."
---
February 21, 2014
Jocelyn F. Benson was a panelist during a community forum, "50 Years of Civil Rights: How Far Have We Come?" hosted by the Oakland County Chapter of the National Congress of Black Women in recognition of Black History Month. The event was held at the Southfield Pavilion and was held to highlight the need for members of the African-American community to stay engaged in voting and political activities, to discuss voter disenfranchisement and to promote early and equitable voter regisration.
---
December 2, 2013
Jocelyn F. Benson was honored as December "ally spouse" by the Military Partners and Families Coalition. Benson co-founded Military Spouses of Michigan and currently serves as the organization's president. MPFC ally spouses are individuals who have shown exceptional leadership in working toward advancing equality for all military families.
MPFC President and Co-Founder Ariana Bostian-Kentes said, "The Military Partners and Families Coalition is happy to honor Jocelyn as our featured ally spouse of the month. Allyhood is about taking action; it's also about doing whatever you can to make sure everyone is included. Jocelyn showed leadership in making that a priority when co-founding Military Spouses of Michigan as an organization that is inclusive of all military families. As a lifelong Michigan resident and the partner of a Michigan National Guard soldier myself, it means a lot to have such a vocal ally like Jocelyn to work alongside in my home state."
---
April 8, 2013
Jocelyn F. Benson was named as recipient of the NAACP's Great Expectations Award for 2013.
---
January 22, 2013
Jocelyn F. Benson was a speaker Jan. 20 during an inaguration brunch hosted by Emily's List in Washington, D. C. Benson, who is interim dean of the Law School and was a candidate for Michigan Secretary of State in 2010, was joined by other speakers at the event including House Minority Leader Nancy Pelosi, Sen. Elizabeth Warren (MA) and Health and Human Services Secretary Kathleen Sebelius. Benson founded and is president of Military Spouses of Michigan. The group, by invitation, walked in the inaguration parade on Jan. 21.
---
March 6, 2012
Jocelyn F. Benson was a panelist at Congressman John Conyers' Democratic Judiciary forum concerning the legal implications of the Emergency Manager Law, held on Feb. 21 at Soul Harvest Ministries in Highland Park, Mich.
---
April 25, 2011
Jocelyn F. Benson is the creator and director of the
Michigan Citizens' Redistricting Competition
. The competition will provide any Michigan citizen with the tools to produce potential district maps for Michigan's 14 Congressional Seats, or Michigan's state senate or legislative seats. The maps will be then scored based upon objective criteria, such as how well they keep county and city residents in one district or how close each district comes to having the same number of people.
---
March 17, 2011
Jocelyn F. Benson will address "Redistricting in Michigan: Who Should Draw the Lines?" at 7 p.m. Thursday, March 24, in Putney Auditorium of the Fetzer Center at Western Michigan University.