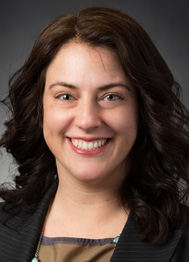 Kerry Kornblatt
Legal Writing Instructor
Room 3373
(313) 577-6553
---
Education
J.D., University of Virginia School of Law
B.A., Rhodes College

Biography
Kerry Kornblatt is an instructor in the legal writing program. Prior to joining Wayne Law's faculty, she worked for the federal judiciary, clerking for Judge Helene White on the U.S. Court of Appeals for the Sixth Circuit, Judge Leslie Southwick on the U.S. Court of Appeals for the Fifth Circuit, and Judge Mark Goldsmith in the U.S. District Court, Eastern District of Michigan, as well as serving as a staff attorney for the U.S. Court of Appeals for the Third Circuit. She also taught legal writing at Mississippi College School of Law as an adjunct professor.
Kornblatt received her B.A. from Rhodes College in Memphis, Tenn., majoring in political science and minoring in religious studies. She received her J.D. from the University of Virginia School of Law, where among other things, she directed the Conference on Public Service and the Law. After law school, Kornblatt served as a fellow at Americans United for Separation of Church and State.
Accomplishments
January 23, 2016
Kerry Kornblatt presented at the Southeastern Legal Writing Conference in Miami. Her talk was titled, "Ask a "Real" Lawyer: How to Create a Productive Dialogue Between Students and Practitioners to Communicate Lessons on Professionalism, Research and Writing Skills, and Career Path."