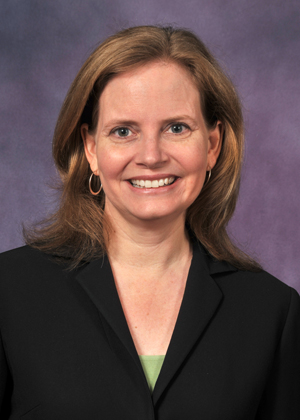 Rachel Settlage
Assistant Professor of Law; Director of the Asylum and Immigration Law Clinic
Room 1227
(313) 577-1897
---
Education
J.D., Georgetown University Law Center
M.S.F.S., Georgetown University
B.A., University of California, Berkeley
Biography
Assistant Professor Rachel Settlage directs the Wayne Law Asylum and Immigration Law Clinic, and teaches Immigration and Nationality Law. She most recently served as a clinical fellow with the University of Baltimore School of Law's Immigrant Rights Clinic. She also has practiced law at the Asylum Program of Southern Arizona; served as a senior researcher at the U.S. Department of State, Office of the Historian; and served as a foreign affairs officer/senior editor at the U.S. Department of State, Bureau of Democracy, Human Rights and Labor.
Settlage earned a J.D. from Georgetown University Law Center, M.S.F.S. from Georgetown University and B.A. from the University of California, Berkeley. Her publications are in the family areas of immigration and human rights law.
Books
Immigration Relief: Legal Assistance for Noncitizen Crime Victims (American Bar Association) 2014 with Elizabeth Campbell and Veronica Thronson
A significant part of the challenge of assisting immigrant victims of crime is gaining a command of the myriad statutes, regulations and agency guidance that this area of the law comprises. This essential resource synthesizes, explains and guides the reader through all of the crucial components of this area of the law.
In addition to explaining the law, this book provides invaluable practice tools such as:
• Definitions of key terms and concepts
• Charts explaining the organization of the various agencies and departments involved in the adjudication of applications for immigration relief
• Helpful checklists to ensure that the final applications for relief are complete
• Lists of additional resources for attorneys
• And more
Whether you are a new or experienced attorney, a legal assistant, a social worker, a law enforcement officer, a prosecutor, a judge, or anyone else who interacts with immigrant victims of crime, this book is an invaluable resource. Its careful organization, thorough explanations and clear presentation demystify the daunting array of immigration statutes, cases, regulations, practice manuals and policy memoranda that govern the adjudication of applications for immigration relief for immigrant victims of crime. It is an essential tool for anyone who works with this most vulnerable population of noncitizens.
Accomplishments
May 20, 2016
Rachel Settlage moderated a panel on Middle Eastern Communities in Michigan at Michigan State University's 2016 Immigration Law Teachers Workshop.
---
October 12, 2015
Rachel Settlage served as a panelist during the 2015 Latina and Latino Critical Legal Theory, Inc. conference in southern California. Her panel's topic was "Victim/Survivor-Based Immigration Relief and the Realities of Immigration Enforcement."
---
May 21, 2015
Rachel Settlage was a panelist at an immigration workshop presented by the American-Arab Anti-Discrimination Committee in Dearborn.
---
February 19, 2015
Rachel Settlage spoke on "The Surge in Unaccompanied Children at the U.S.-Mexico Border: A Humanitarian Crisis" for Professor Asher Kaufman's class, Borders, Boundaries and Frontiers, at the University of Notre Dame, Indiana. Her lecture was sponsored by Teaching Beyond the Classroom of Arts & Letters, the Kroc Institute for International Peace Studies and the Center for Social Concerns.
---
September 13, 2014
Rachel Settlage was a panelist discussing "Does Success Really Matter? Accepting or Continuing Representation of Clients who have Little Hope of Winning their Cases" for the Midwest Clinic Teachers Conference at Michigan State University in Lansing.
---
January 31, 2011
Rachel Settlage led a training Jan. 22 organized by the Washtenaw County Interfaith Coalition for Immigrant Rights (WICIR) for law students and WICIR advocates interested in presenting "Know Your Rights" workshops on ICE Raids in the community. The training took place at the First Congregational United Church of Christ in Ypsilanti and was attended by more than 40 community advocates and volunteers.
---
January 7, 2011
Rachel Settlage served as one of two trainers at an asylum law training on Nov. 19, 2010. Twenty-three lawyers gathered at Freedom House in Detroit to attend the training, which was sponsored by MIRC, Freedom House, Honigman Miller Schwartz and Cohn, and the National Immigrant Justice Center.
In The News
March 5, 2017
Rachel Settlage was quoted by The South End for its report, "Refugee finds asylum at Detroit Freedom House."
Read Article
---