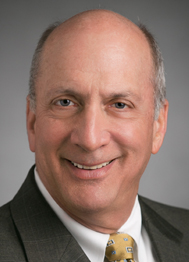 Robert M. Ackerman
Professor of Law
Room 3267
(313) 577-0269
Fax (313) 577-9016
---
Education
J.D., Harvard Law School
B.A., Colgate University
Biography
Robert M. Ackerman recently returned to full-time teaching and scholarship after serving almost five years as dean at Wayne Law. As dean, he led the Law School in the development of a new Environmental Law Clinic, an Asylum and Immigration Law Clinic, and a Program for International Legal Studies. He secured funding for Public Interest Law Fellowships, and assisted in strengthening the Law School's dynamic faculty by hiring a number of outstanding legal scholars and practitioners. In October 2011, Ackerman welcomed more than 600 guests to campus for the dedication of the Damon J. Keith Center for Civil Rights, a project he and a number of Wayne Law faculty members, alumni and friends helped to make a reality.
Ackerman teaches courses in torts and dispute resolution. He serves on Labor@Wayne's internal advisory board and as Wayne State University's faculty athletic representative. Previously, he served on the Institute of Continuing Legal Education's executive committee, chairing that committee from 2009-2010.
Prior to coming to Wayne Law, Ackerman served as a professor at Penn State University's Dickinson School of Law, where he taught torts, dispute resolution, conflict resolution theory, negotiation and mediation. He also served as director of the Center for Dispute Resolution, at the time the nation's seventh-ranked law school dispute resolution program.
Ackerman, a cum laude graduate of Harvard Law School and magna cum laude graduate of Colgate University, served as dean and professor of law at Willamette University College of Law from July 1996 to May 1999. While he was dean, the law school experienced a 60 percent increase in financial aid to law students, a revitalization of the alumni organization and annual giving, enhanced visibility of the Center for Dispute Resolution and Law and Government program, and an increase in the diversity of the faculty and student body.
Ackerman has lectured at Bar-Ilan University in Israel, the University of Vienna School of Law, the Penn State University College of Medicine and Leicester Polytechnic School of Law (now deMontfort University). He has also been employed by the Denver firm of Holme Roberts & Owen and the Harvard Prison Legal Assistance Project.
He has written extensively in the fields of torts, dispute resolution, communitarian theory and civic responsibility, and his scholarship has appeared in a wide variety of high profile publications. His essay, "Taking Responsibility," was a winner of the international Communitarian Essay Contest and was published in the German social science journal Leviathan. His co-authored book (with Robert F. Cochran Jr.), Law and Community: The Case of Torts, was published early in 2004.
Ackerman is an active participant in professional groups related to conflict resolution. He is a founding member of Mediators Beyond Borders, and has worked on development projects in Tanzania with Penn State's InterInstitutional Consortium for Indigenous Knowledge. He also has served as chair of the AALS Section on Law and Communitarian Studies and is chair-elect of the AALS Section on Socioeconomics.
Selected Publications
"Making Corporate Law More Communitarian: A Proposed Response to the Roberts Court's Personification of Corporations," with Lance Cole, Brooklyn Law Review, Spring 2016
"Justice for All? Three Lessons in Delivering Fairness and Due Process to Many Parties," Dispute Resolution Magazine, Summer 2014
"Verantwortung ubernehmen" Leviathan, 2007 (German translation of "Taking Responsibility").
"Vanishing Trial, Vanishing Community?" Journal of Dispute Resolution, 2006.
"The September 11 Victim Compensation Fund: An Administrative Response to National Tragedy," Harvard Negotiation Law Review, 2005.
Law and Community: The Case of Torts, with Robert F. Cochran Jr., Rowman and Littlefield, 2004.
"Disputing Together: Conflict Resolution and the Search for Community," Ohio State Journal on Dispute Resolution, 2002.
"Tort Law and Federalism: Whatever Happened to Devolution? Yale Law and Policy Review, Yale Journal on Regulation (Joint Symposium Issue), 1996.
"Tort Law and Communitarianism: Where Rights Meet Responsibilities," originally published in Wake Forest Law Review, 1995, revised and republished in To Promote The General Welfare: A Communitarian Legal Reader 1999.
"Defamation and Alternative Dispute Resolution: Healing the Sting," Missouri Journal of Dispute Resolution, 1986.
"The Seat Belt Defense Reconsidered: A Return to Accountability in Tort Law?" New Mexico Law Review, 1986.
Accomplishments
February 17, 2015
Robert M. Ackerman was elected to a four-year term on the Metro Detroit Branch Board of Directors of the American Civil Liberties Union.
---
January 5, 2014
Robert M. Ackerman introduced the daylong Section on Socio-Economics at the Association of American Law Schools annual conference in New York, N.Y, and was part of a panel on Corporate Theory and Regulation. Ackerman gave a presentation on "Corporate Communitarianism in the Wake of
Citizens United
," the subject of an upcoming article he is writing with Professor Lance Cole of Penn State University. Also at the annual conference, Ackerman concluded his one-year term as chair of the Section on Socio-Economics.
---
May 6, 2011
Robert M. Ackerman spoke about cross-border legal education at the Council of Canadian Law Deans, hosted by the University of Windsor Law School.
---
March 10, 2011
Robert M. Ackerman will speak on a University of Windsor Law School Dean's Panel from 11:30 a.m.-12:30 p.m. Friday, March 18 in Windsor Law's Conference Room 1111. The panel is titled "Balancing Legal Theory and Practicum in Law School Curriculum."
In The News
December 11, 2015
Robert M. Ackerman was interviewed by Al Jazeera America for its report on a recent surge in people taking firearms training.
Read Article
---
February 11, 2015
Robert M. Ackerman was quoted in Detroit News report "Judge Damon Keith's legacy looms large."
Read Article
---
May 29, 2014
Robert M. Ackerman was interviewed by the Legal News for an Asked & Answered column on football helmet safety and liability.
---