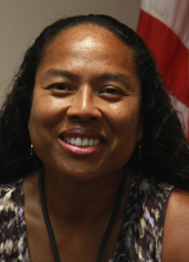 Blanche B. Cook
Assistant Professor of Law
Room 3249
(313) 577-9963
---
Education
J.D., University of Michigan Law School
B.A., Vassar College
Biography
Blanche Cook joined Wayne State University Law School in fall semester 2014, teaching Criminal Procedure: Adjudication.
She earned her bachelor of arts degree at Vassar College and her law degree at the University of Michigan Law School. Her primary areas of expertise are appellate practice, criminal law and procedure, critical race theory, employment discrimination, evidence, federal courts, sex trafficking and trial advocacy.
Most recently, she served as an assistant U.S. attorney with the U.S. Department of Justice, where she specialized in large-scale drug and sex-trafficking prosecutions. As a federal prosecutor, she has briefed and/or argued more than 40 federal appeals.

Professor Cook clerked for the Honorable Damon J. Keith of the U.S. Court of Appeals for the Sixth Circuit. She was also an associate at Miller, Canfield, Paddock and Stone in Detroit and Seyfarth Shaw in Chicago, where she specialized in employment discrimination, labor law, and sexual harassment litigation and prevention training. While a practicing attorney, she taught and/or lectured at American Baptist College and Vanderbilt University.

She has established herself as a leading expert on sex trafficking by problematizing the entire spectrum of sex-trafficking prosecutions and the commercialization and exploitation of women and girls. She is actively involved in shaping the emerging nationwide discourse on sex trafficking and victims' rights as it relates to evidentiary issues, race-class-gender profiling and sex-trafficking statutes. She writes in the areas of victims' rights, critical race theory, human rights, race and gender discrimination, criminal procedure, black feminist legal theory, womanist thought and the normative gaze of identity. Her current research trajectory focuses on a critical analysis of sex-trafficking prosecutions.
Her years of practice in the public and private sector inform her teaching philosophy and passion. Her mission is to deconstruct and make accessible the principles and practices of law in ways that are meaningful to students, not only for professional development, but also as a means of augmenting the role that advocacy plays within law and litigation.
Professor Cook is a frequent and sought-after speaker at workshops and conferences, and she is active in promoting community among critical legal scholars, critical race theorists, feminists and womanists in legal academia and beyond.
Accomplishments
November 21, 2015
Blanche B. Cook was a presenter at a conference on race and politics at Duke Law School in North Carolina. The title of her talk was, "Biased and Broken: The Criminal Justice System and the Profiling, Policing, and Peril of Unarmed Black Bodies."
---
October 22, 2015
Blanche B. Cook spoke at the American Bar Association Criminal Justice Section's Fall Institute in Washington, D.C. She took part in a panel discussion, "The Media's Role in Fostering Racial Perceptions and What It Means for Criminal Justice Policy."
---
September 11, 2015
Blanche B. Cook was part of a panel discussion during the Michigan Future Law Professors Workshop at the University of Michigan in Ann Arbor.
---
August 24, 2015
Blanche B. Cook gave an implicit bias training during Curriculum and Instruction Day at the Wayne State University School of Social Work.
---
May 7, 2015
Blanche B. Cook presented "The Racialization of the Justice System" at Swords Into Plowshares Peace Center in Detroit. The presentation's sponsors included the American Civil Liberties Union, Coalition of Labor Union Women, Swords into Plowshares Peace Center, Central United Methodist Church, AFL-CIO Metro Detroit's Civil Rights Committee and People's World.
---
March 12, 2015
Blanche B. Cook gave the lunch address on "Implicit Bias and Unpacking the Deaths of Unarmed African-Americans" during Wayne State University's 12th annual Conference in Citizenship.
---
February 10, 2015
Blanche B. Cook was a panelist during a Human Trafficking Forum presented by the Outreach Committee of the President's Commission on the Status of Women at Wayne State University in collaboration with the WSU student organization Not For Sale, Soroptimist International of Grosse Pointe and Heaveny Hope International.
---
February 4, 2015
Blanche B. Cook moderated a panel discussion on the struggle for human dignity and justice in Detroit for "Black Lives Matter" presented at Wayne State University.
---
February 2, 2015
Blanche B. Cook presented "Implicit Bias and Unpacking the Deaths of Unarmed African Americans" at Vanderbilt Law School in Nashville, Tenn. The event was sponsored by the school's Criminal Justice Program, Social Justice Program, Black Law Students Association, American Constitution Society and Law Students for Social Justice.
---
November 15, 2014
Blanche B. Cook presented "Implicit Bias and the Inevitablity of Michael Brown" at Vanderbilt Divinity School, Tennessee, as part of the Social Justice Forum program, an activity of the Kelly Miller Smith Institute on African American Church Studies.
---
September 25, 2014
Blanche B. Cook presented "Prostitutes, Pimps, Prosecutors and Politicians: Navigating the Dangerous World of Hegemony, Pseudospeciation and Patriarchy" at Vanderbilt Divinity School in Nashville, Tenn. The lecture was based on an upcoming law review article Cook is preparing.